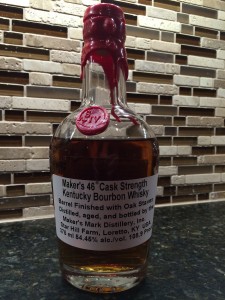 108-114 proof (this bottling is 108.9 proof); no age statement
$40/375ml
The story: In September 2014, Maker's Mark began offering an uncut and unfiltered cask strength version of its bourbon (see my tasting notes here). That proved to be so popular that the distillery has now unveiled a cask strength version of Maker's 46, which is first aged just like the original for about 5 1/2 years, then aged for two to three additional months in a used barrel in which 10 toasted French oak staves have been suspended. For now, Maker's 46 Cask Strength is available only in 375ml bottles and only in the gift shop at the distillery in Loretto, Ky. You do have the option of dipping your own bottle, however, which we chose to do with ours. As you can see, we did not keep it as a souvenir. Here are my tasting notes.
The aroma: Vanilla, caramel, cherry, cedar; evokes the classic Maker's Mark, but not as sweet.
The taste: Rich and buttery, with notes of almond and chocolate and a hint of mint; cool on entry (typical of all Maker's products), coats the entire palate and ends with a long, warming finish.
The verdict: Just as I found I preferred Maker's Cask Strength to classic Maker's, I prefer this to the original Maker's 46. In fact, it's my favorite Maker's expression so far. Worth the trip! (Your mileage may vary.)