Knowing that Halloween and Thanksgiving, the two holidays that revere The Great Pumpkin, are in our sights, the fine folks at Basil Hayden's sent along this recipe. The resulting cocktail has a lovely orange hue and a pumpkin-pie essence; it's not as sweet as pie, however, due to the high rye content of the bourbon.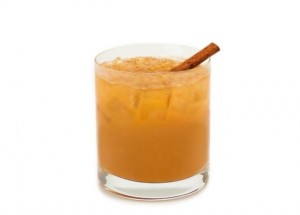 Ingredients:
2 parts Basil Hayden's Bourbon (or other high-rye bourbon)
6 dashes Angostura Bitters
Fresh Nutmeg (for garnish)
1 Cinnamon Stick (for garnish)
Method:
1. Combine pumpkin puree, superfine sugar, sweet vermouth, bitters and lemon juice into a mixing glass.
2. Stir until sugar is nearly dissolved.
4. Stir well and strain into a cocktail glass filled with ice.
5. Top with dry hard cider.
6. Garnish with grated nutmeg and a cinnamon stick.
Created by Larry Piaskowy (San Francisco, CA)