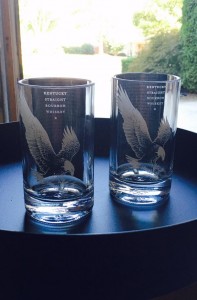 As a bourbon blogger, I have a lot of bottles of bourbon. I also have a lot of bourbon glassware. But until this week, what I didn't have was bourbon glasses made from bourbon bottles.
A Georgia company called Cave Dreams Lighting recently started making drinking glasses from Eagle Rare bottles, and they sent me a pair for review. (As the company's name implies, its main product line is lighting fixtures for man- or woman-caves that are also made with repurposed bourbon bottles and industrial pipe.)
Each glass is hand-cut and polished, and the lip is ground and polished for your drinking safety. Taller than a rocks glass, they are great for cocktails, or beer, or beverage of your choice. They are substantial – as are most bourbon bottles – but they aren't uncomfortably heavy. And they're beautiful. I hadn't really paid attention to how pretty the Buffalo Trace-produced bourbon's bottle was until I saw the eagle highlighted in this design. You could also use them as candle holders.
In short, they would be an excellent holiday gift for the bourbon fan who thinks she has everything. Also, having purchased a light fixture from Cave Dreams earlier this year (which I will post as soon as we get it positioned), I can vouch for the quality of their work and the care of their customer service.
Eagle Rare bourbon glasses are $15 each. (Cave Dreams Lighting also makes glasses from Grey Goose Vodka bottles if that's more your style.) Order them at the Cave Dreams website, here.