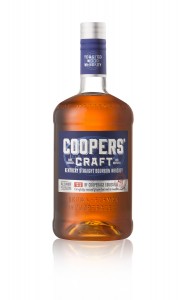 Bourbon innovation moves forward with a nod to the past as Brown-Forman announces its first new bourbon brand in 20 years: Coopers' Craft. The name reflects Brown-Forman's more than 70 years of making barrels as the only major distiller to own a cooperage.
Established in 1945, the Brown-Forman Cooperage was based on the bourbon-making philosophy of B-F founder George Garvin Brown, who recognized the important role that wood plays in the flavor of whiskey.
In addition to being matured in barrels raised by master coopers at the Brown-Forman Cooperage, Coopers' Craft will go through a special beech and birch charcoal filter finishing process.
Brown-Forman master distiller Chris Morris, whose production team spent more than a decade creating Coopers' Craft, told The Associated Press that "the time for a new style of bourbon has arrived."
Aged for four to six years, Coopers' Craft will be bottled at 82.2 proof, lower than the proofs of the company's Woodford Reserve (90.4) or Old Forester (86 or 100 in the case of the Signature expression). This could make it a more palatable "entry bourbon" for new consumers.
Beginning this summer, Coopers' Craft will be available in the following markets initially: Alabama, Florida, Georgia, Kentucky, Louisiana, Mississippi, South Carolina and Tennessee, with a suggested retail price of $28.99 for a 750ml bottle.