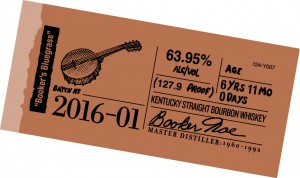 127.9 proof: 6 years, 11 months
$59.99/750ml suggested retail price
The story: Beam has bottled the first of six planned releases in its 2016 Booker's Batch Collection, a limited-edition series honoring legendary master distiller Booker Noe. Each batch will be selected by Booker's son, current master distiller Fred Noe, and bottled at barrel strength. This one, 2016-01, is called "Booker's Bluegrass" to reflect Booker Noe's love of whiskey and bluegrass music and has a banjo on the label. The folks at Beam kindly sent me a small sample for this review.
The nose: Vanilla extract, toasted pecans, quite a bit of alcohol burn
The taste: Spicy, with a lot of mint; notes of cedar; very intense with a long, hot finish. Adding a splash of water cooled the heat but did nothing to improve the taste profile.
The verdict: I, too, like whiskey, and bluegrass, and Booker's, but this was not my favorite expression. I generally enjoy a higher-proof bourbon, so that didn't scare me off, but I found this particular pour to be mostly hot, with little of the sweeter notes that make regular-edition Booker's more well-rounded. I'll keep sipping on that while waiting to see what Fred Noe serves up next.