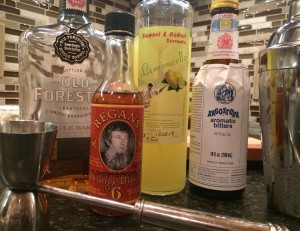 Three years ago, I bought a bottle of limoncello in Sorrento as a memory of my first trip to Italy. The liqueur is traditionally made from the zest of Femminello St. Teresa lemons, also known as Sorrento or Sfusato lemons, and the wonderful citrus scent permeates the entire town. After deciding to save the bottle for a special occasion, I finally opened it to celebrate a milestone birthday. The bracing, sweet-sour sip took me right back to the market where I'd purchased it.
Then I started wondering what else I could do with limoncello. A few minutes of Googling revealed a Food & Dining post called "3 Limoncello Cocktails for Basking in the Warm Weather." That certainly describes Kentucky in July, so I read on. I settled on the Stirred Sour, both because it employs bourbon, and because I enjoyed the authors' description of the drink: "Think of it as an old-fashioned wearing its seersucker suit for the summer. When a super-boozy whiskey drink feels too heavy, give this guy a try instead."
Stirred Sour
2 ounces bourbon (like the authors, I used Old Forester)
1 ounce limoncello
1 dash orange bitters
1 dash Angostura
Instructions: In a mixing glass with ice, combine all ingredients and and stir until well-chilled. Strain into a glass without ice. Garnish with a long, skinny lemon peel.