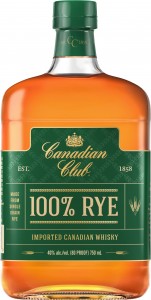 80 proof; no age statement
$19.99/750ml suggested retail price
The story: In order to be classified as rye, the mashbill of a whisky (or whiskey, if you prefer) must be at least 51 percent rye. Canadian Club 100% Rye, the company says in a news release, is just what the label says it is: "No corn. No barley. Nothing
but rye." To achieve the desired taste profile, producer Alberta Distillers Ltd. selects aged whisky (the exact age was not specified) from three types of barrels — new white American oak barrels; once-used bourbon barrels; and Canadian whisky barrels — and then blends it. Canadian Club 100% Rye debuted in Canada in 2014 and was released in the U.S. beginning in May. The nice folks at Canadian Club (a Beam Suntory company), sent me a sample for this review.
The aroma: Raisins, brown sugar, light baking spices, a whiff of oak.
The taste: This was a little spicier than I had anticipated from an 80-proof whiskey, but in a pleasant, tingly, minty sense. Good balance of sweetness (brown sugar, caramel) with those dry baking spices (cloves). Smooth, with a nice creamy mouth feel and a long finish.
The verdict: This is a classic rye. While some rye whiskeys are too sweet, and others err on the harsh side, Canadian Club plays it right down the middle. I'm sure that it would be great in a cocktail, as the company's press materials suggest, but I really enjoyed drinking this neat. And it's a good value at $20.