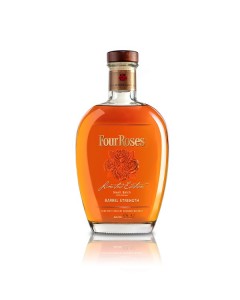 Happy Bourbon Heritage Month! The best part of this month is that it's when a lot of distilleries release new products and limited editions. For Four Roses, that's the annual Limited Edition Small Batch Bourbon. This year's Limited Edition is special for two reasons: It's the first one that bears the name of new Master Distiller Brent Elliott, and it's the first in seven years to include the OESO recipe. Elliott's Small Batch blends that 12-year-old OESO bourbon with a 12-year-old  OBSV and a 16-year-old OESK.
With two mashbills (E and B) and five proprietary yeast strains (O, V, K, Q and F), Four Roses produces 10 distinct bourbon recipes. The OESO combines the mashbill that is lower in rye with a yeast that lends rich fruitiness.
"When I tasted the sample from that OESO barrel, I knew I wanted it to anchor this Limited Edition Bourbon," Elliott said in a news release from Four Roses. "We were able to highlight its exceptional fruitiness and balance it out with more age and spice from the two other recipes."
The Limited Edition Small Batch is bottled at barrel strength with a proof of 111.2. Four Roses will distribute 9,258 hand-numbered bottles in the United States. The release will begin to hit retail outlets in mid-September.