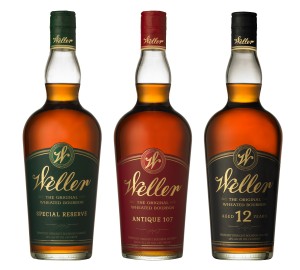 When you're scouring the shelves for W.L. Weller at your favorite liquor store later this year, you'll need to be on the lookout for a new bottle. Beginning in December, Weller Special Reserve, Weller Antique, and Weller 12-Year-Old Bourbon Whiskey will have a new package design — a taller, leaner bottle that maintains the current Weller bottle's curves (and bears more than a passing resemblance to Evan Williams Single Barrel, below).
The label on each whiskey will have a distinct color: dark green for Special Reserve, burgundy for Antique and black for 12-Year-Old. The name "Weller" is printed much larger in gold on the front of the bottles, and "the gold accents continue throughout the front label to add to the upscale feel," according to a news release from Buffalo Trace Distillery. An aluminum cap replaces the current plastic one.
On the back, a new label shares information about William Larue Weller and includes tasting notes for each expression. W.L. Weller, who was born in 1825, joined a family distilling tradition in Louisville in the 1840s and developed a bourbon recipe with wheat, rather than rye, in the mash bill. His namesake company eventually merged with Pappy Van Winkle's A. Ph. Stitzel Distillery to form the Stitzel-Weller Distillery.
"The Weller Bourbons have an exceptionally smooth taste, and we wanted to design the new package to fully reflect the quality of the bourbon inside," Kris Comstock, marketing director for bourbon said in the release. "This new look is indicative of our strong commitment and plans for continued growth for the brand in the future."
Increased demand for the Weller brands has led to occasional shortages and subsequent alarmist reports that Buffalo Trace has discontinued production. In fact, the distillery has steadily increased production over the past few years. "We are committed to Weller and have no plans to discontinue or change the recipe, proof, or age of any of the Weller whiskeys," Comstock said.
Weller Special Reserve and Weller Antique should be available in the new packaging this December, as will the next release of Weller 12 Year Old, which is scheduled for spring 2017.  The new look will affect 750ml, 1 liter and 1.75l bottles. No price increase is planned. Suggested retail price will remain $17.99 for the 750ml bottles of Weller Special Reserve; $19.99 for the Weller Antique 107; and $24.99 for the Weller 12-Year-Old.