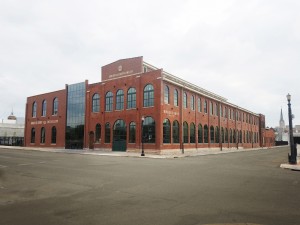 The new Angel's Envy distillery and visitor center, located at 500 E. Main St. in Louisville, will open to the public for guided tours tomorrow (Saturday, Nov. 19). Admission will be $15 per person and will include a tasting. Tours will be given 
Monday
and
Wednesday 
through
Saturday
from
10 a.m. to 5 p.m. and
every
Sunday from 1-5 p.m. (Tours will not be available on Tuesdays.) R
eservations, which are required, are now being accepted at
www.angelsenvy.com
.
The distillery project, which began in 2013, is a $27 million renovation of the former Vermont American and Baer Fabrics Warehouse, across Main Street from Louisville Slugger Field. Architects preserved as many features of the original building as possible, including exterior walls, vaulted ceilings and arched windows. The building now houses the Angel's Envy distillery operations (from milling of grains to blending and bottling), as well as a visitor center and gift shop. The 35-foot-tall column still, pot still and doubler were created by Vendome Copper & Brass Works, which is four blocks away.
The Angel's Envy distiller becomes the first full-production whiskey distillery in downtown Louisville, but it won't be the last; Brown-Forman's Old Forester Distillery, under construction several blocks west on Main Street, is scheduled to open next year, doubling production of B-F's flagship brand.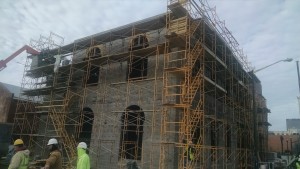 Angel's Envy, Kentucky straight bourbon that is finished in port wine casks, was the culmination of the late Master Distiller Lincoln Henderson's storied career. After retiring from Brown-Forman, Lincoln paired with his son, Wes Henderson, to create the brand in 2011. The line has expanded to three expressions, including Angel's Envy Cask Strength and Angel's Envy Rye, which is finished in Caribbean rum casks). Lincoln Henderson passed away in 2013, but the family tradition is carried on through Wes' sons, Kyle Henderson, production manager at Angel's Envy, and Andrew Henderson, distillery operator. In 2015, Bacardi Limited acquired Angel's Envy and Louisville Distilling Co., the company behind the brand.
"Opening the Angel's Envy distillery and visitor's center in downtown Louisville was a dream Dad (Lincoln Henderson) and I had," Wes Henderson, co-founder/Chief Innovation Officer of Louisville Distilling Co., said in a news release following a media preview on Wednesday. "He would be so proud of what we've accomplished in such a short amount of time. My sons and I proudly carry on his legacy. The distillery is a must-see experience."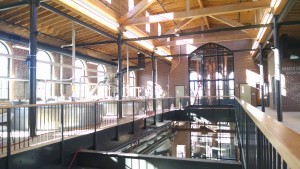 "We are delighted that Angel's Envy chose downtown Louisville for its new distillery and visitor center," Louisville Mayor Greg Fischer said at the opening. "It is evident that Angel's Envy is not only committed to quality craftsmanship, but also the greater Louisville community."