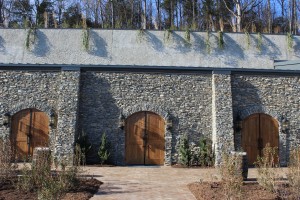 As a resident of Kentucky, I've been on a lot of cave tours, but the one I took yesterday was the best one ever. Of course, they don't give you a sip of cask-strength (110 proof) Maker's Mark and a sample of a Maker's Private Select during most cave tours.
I was among a small group of media folks who got the first look at The Cellar at Maker's Mark distillery in Loretto, Ky. Carved out of a limestone shelf and covered with earth and a "living roof," The Cellar will allow the distillery to barrel-finish Maker's 46 and its Private Select year round by maintaining a temperature of no more than 50 degrees.
Maker's 46 is made by pouring mature Maker's Mark into a second barrel, adding 10 seared French oak staves, and aging for an additional nine weeks. The Private Select process is the same, except that the company or store purchasing the barrel selects its own combination of 10 staves from five options.
Previously, Maker's could only finish these barrels during the winter, because its warehouses aren't climate controlled and nine weeks of summer heat drew too much tannin and spice from the additional staves.
The Cellar can hold up to 2,000 barrels; there were about 150 inside yesterday. It will also be the location where Private Selections are made, in a gorgeous new tasting room with glass art by Brook White of Louisville's Flame Run Gallery.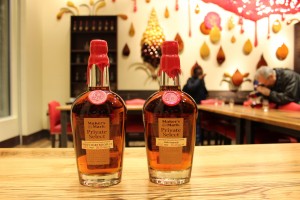 The installation, "Tradition Flows from a Single Drop," allows the names of each company that makes a Private Select to be etched on a drop of bourbon, while shelving holds at least one bottle from each — including Party Mart's, which I had the privilege of  helping to create earlier this year.
In keeping with Maker's Mark's aesthetic of beauty in distilling, the exterior of The Cellar is made of dry-stacked limestone, with landscaping by well-known Lexington landscape artist Jon Carloftis.
The Maker's Mark Cellar will be added to public tours sometime in 2017.
(Below, L-R, Rob Samuels, Maker's Mark COO, pours samples in The Cellar's coopering area, where guests can see how the French oak staves are added, middle; detail of dry-stacked limestone.)