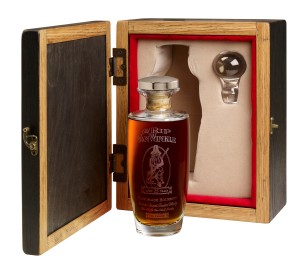 Break open the piggy bank: A one-time bottling of 25-year-old Van Winkle bourbon will be released this spring. Only 11 barrels comprise this release, Buffalo Trace said in an announcement this morning. Suggested retail price for each of the 710 bottles: $1,800.
The barrels were distilled in the spring and fall of 1989 and stored on the lower levels of a metal-clad warehouse built in 1935 at the Van Winkle family distillery in Shively, Ky., the release says. In 2002 the barrels were moved to Buffalo Trace Distillery in Frankfort, where they aged for another 12 years on the lower floors in Buffalo Trace's brick warehouses. In 2014 the Buffalo Trace team emptied the bourbon into stainless steel tanks to halt the aging process and preserve the rich flavor profile of the Van Winkle line of wheated bourbons.
Each bottle is a handmade glass decanter from Glencarin Crystal Studio. The bottle information is engraved on each decanter, individually numbered, and hand finished with a silver stopper. A glass top for the decanter is also included.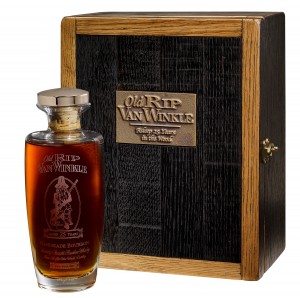 The decanters are packaged in wooden boxes handcrafted in North Carolina by James Broyhill II of Heritage Handcrafted. The lids are made from staves of the 11 barrels that held the bourbon. Each box bears a metal plaque with the Old Rip Van Winkle logo and says "asleep 25 years in the wood." A numbered bourbon certificate of authenticity that is signed by Julian Van Winkle, grandson of founder Julian P. "Pappy" Van Winkle, Sr., is included.
The 25-year Old Rip Van Winkle Bourbon is bottled at 100 proof and will start shipping in April. Don't be surprised to see Pappy fans camping out at liquor stores starting in late March.