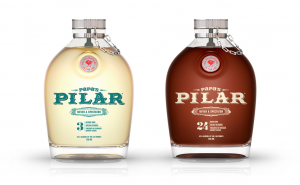 I like bourbon and I like Ernest Hemingway, so I was predisposed to enjoy Papa' s Pilar, a new premium rum inspired by the writer/adventurer and aged for a time in American oak bourbon barrels.
The first two varieties, Dark & Blonde, are hand-selected from the Caribbean, Central America and the United States, then blended and solera aged in a process that also involves Port Wine casks for the Dark rum, and finished in Spanish Sherry casks.
The result is a full-bodied spirit with, as the Papa' s Pilar team calls it, a "distinctive bourbon footprint." That is no accident: The late Lincoln Henderson, a Bourbon Hall of Famer who served as Master Distiller for Brown Forman for years and created Angel's Envy with his son, Wes, after retiring from BF, advised the Papa's Pilar creators on the formula for the rum expressions.
"Papa," of course, was Hemingway's nickname. Pilar was the 38-foot fishing boat he acquired in the 1930s and christened with the nickname he used for wife Pauline. (Pilar is also the name of the woman leader of a band of guerillas in Hemingway's "For Whom the Bell Tolls," a novel about the Spanish Civil War.) In addition to using the boat for sport fishing, Hemingway used the Pilar to search for German U-boats in the Caribbean.
The distinctive Papa's Pilar bottle is meant to resemble a WWII canteen. The etched compass closure reflects adventure on either land or sea. And the rooster on the medallion represents Key West, Florida, where Hemingway and his boat Pilar once resided. (The Pilar is now housed at the Museo Ernest Hemingway in Cuba, at Hemingway's former home near Havana.)
Papa' s Pilar was developed in conjunction with Ernest Hemingway' s estate, and the Hemingway family donates 100 percent of their royalty profits from Papa' s Pilar Rum to charity. (The suggested retail price of the Dark and Blonde are $39.99 and $29.99 per 750/ml, respectively.)
Papa' s Pilar Blonde, which the company says is the first rum categorized as "blonde," is bottled at 84 proof and includes column-stilled aged rums 3-7 years old. Papa' s Pilar Dark, 86 proof, contains both pot- and column-distilled rums up to 24 years old.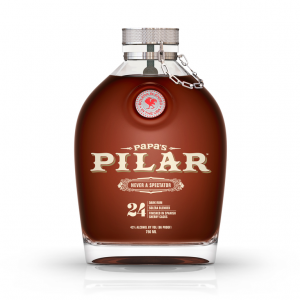 Papa's Pilar kindly provided me with samples of each. I enjoyed both expressions, but I preferred the Dark, which has a bolder character than the Blonde. The Dark is sweet with a definite bourbon note and a thick, velvety mouth feel. The host of a recent bourbon tasting I attended brought out a bottle of the Dark as an after-dinner treat, and it was well-received by everyone who sampled it.
Papa' s Pilar also has plans to build a distillery and visitor center in Key West, Florida, which will give me an excuse to visit that laid-back city again (as if I needed one).