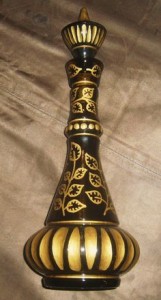 In 1964, the Jim Beam Christmas edition decanter sold for $5.99. On April 28, one of those bottles is expected to bring at least $100,000 at auction. The contents of this bottle made it extra-special, and we're not talking about whiskey. This bottle served as home for Barbara Eden's genie on "I Dream of Jeannie," which ran from 1965-70 on NBC and co-starred Larry Hagman as astronaut Major Tony Nelson.
According to Julien's Auctions ("The Auction House to the Stars"), which is handling the sale, the show's first director, Gene Nelson, saw the 14-inch-tall whiskey decanter in the window of a liquor store, says a story in Forbes. The original bottle was smoke-green, but it was hand-painted with gold leaf to make it look antique. When the show switched to color from black-and-white in the second season, the bottles were painted pink and purple.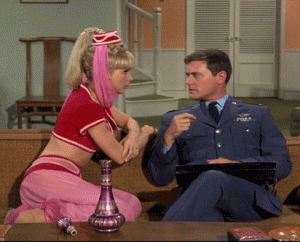 About 12 of the bottles were used during the series' 139-episode run. The one being auctioned is the original one that was painted on set, and it will be accompanied by a letter of authenticity from Barbara Eden.