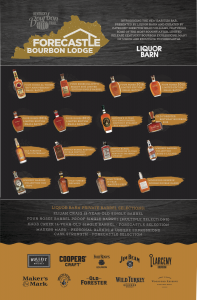 The Forecastle Bourbon Lodge, the Kentucky Bourbon Trail outpost of the Forecastle Festival (July 14-16 at Louisville's Waterfront Park), will be serving up some of the most sought-after Kentucky Bourbon limited editions this year at its new Rarities Bar, presented by Liquor Barn and curated by category director Brad Williams.
The Rarities Bar will also debut unique blends crafted by Williams and Forecastle Founder JK McKnight, available for sample only at Forecastle and for purchase at select Liquor Barn locations.
The Rarities Bar will include the following Kentucky Bourbon Trail offerings:
Four Roses Al Young "50th Anniversary" Small Batch
Four Roses Elliott's Select 2016 Limited Edition Single Barrel
Four Roses 2016 Limited Edition Small Batch
Four Roses 2015 Limited Edition Small Batch
Four Roses 2014 Limited Edition Small Batch
Four Roses 2013 Limited Edition Small Batch
Michter 10-Year Old Single Barrel Kentucky Straight Rye Whiskey
Old Forester Birthday Bourbon 2016
Old Forester "The Statesman"
Orphan Barrel Rhetoric 23-Year Kentucky Bourbon Whiskey
Orphan Barrel Barterhouse 20-Year Kentucky Bourbon Whiskey
Whiskey Barons Collection Bond & Lillard
Whiskey Barons Collection Old Ripy
Wild Turkey Decades
Wild Turkey 17-Year Master's Keep
Woodford Reserve Double Double Oaked
And the following Liquor Barn Private Barrel Selections:
Elijah Craig 12-Year- Old Single Barrel
Four Roses Barrel Proof Single Barrel (multiple selections)
Knob Creek 14-Year- Old Single Barrel – Forecastle Selection
Maker's Mark Private Select Cask Strength – Forecastle Selection
All Rarities Bar offerings will be released at specific times throughout the festival, available until limited quantities are depleted. A full schedule of releases will be shared prior to the festival; those with Bourbon Lodge memberships, currently available at ForecastleFest.com, will have early access to the release schedule.
The 15th annual Forecastle Festival, which has grown to attract more than 1.5 million visitors per year, will feature dozens of performers including LCD Soundsystem, Odesza, Weezer, Cage the Elephant, Spoon, and PJ Harvey.