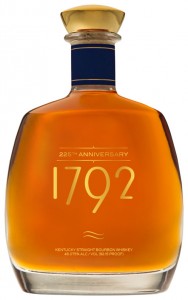 The Commonwealth of Kentucky joined the United States on June 1, 1792. To commemorate the 225th anniversary of this momentous occasion, Barton 1792 Distillery is releasing a one-time-only bourbon that will be available for purchase in Kentucky only.
The special 225th Anniversary 1792 was hand selected from 10-year-old barrels and bottled at 92.15 proof — a nod to both the year 1792 and Kentucky's status as the 15th state to join the union. The dark blue of the neck band and the back label salutes the color of the official state seal. Tasting notes provided by the distillery describe the bourbon as having "an intricate aroma consisting of spices, toffee, and subtle fruity notes. The taste is oaky and bold, with notes of butterscotch, vanilla, almonds and rich honey. The finish is smoky and dry with a lingering yet smooth spiciness."
The limited edition will be unveiled on June 1 at a Barton 1792 Distillery private 225th Anniversary Party in Bardstown, Ky., and available thereafter at retail outlets in Kentucky,  including the Barton 1792 Visitor Center. The suggested retail price is $35.99/750ml.
This is the sixth limited edition release of 1792 Bourbon expressions. Previous releases were High Rye, Sweet Wheat, Port Finish, Single Barrel and Full Proof Bourbons. Barton 1792 Distillery, established in 1879, is now part of Barton Brands, which is owned by the Sazerac Company, an American family-owned company based in New Orleans.