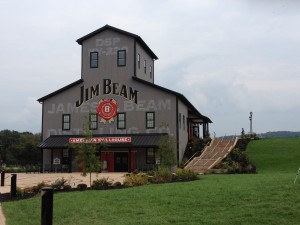 526 Happy Hollow Road,
Clermont, KY  40010
jimbeam.com/visit-the-bourbon-distillery, 502-543-9877
PRODUCTS: Jim Beam, Baker's, Booker's, Basil Hayden's, Knob Creek, Knob Creek Rye, Knob Creek Smoked Maple, Old Grand-Dad, Jim Beam Rye, Red Stag
Although Jim Beam is one of the best-selling bourbon brands in the world, for years the distillery had a visitor experience that Master Distiller Fred Noe charitably referred to as "minimal"—a video, a look around the Beam home place, and a gift shop.
That changed dramatically in October 2012, when the Jim Beam American Stillhouse opened in Clermont. In a replica of a 1930s-era stillhouse, clad in corrugated metal panels to match the warehouses on the property, visitors take a tour that leads them through the entire bourbon-making process. One highlight is the "stillevator," an elevator that lifts guests to the second floor of the visitor center just as alcohol rises in the still during distillation.  Take time to explore the grounds and snap a photo with the bronze sculpture of legendary Master Distiller Booker Noe and his faithful dog, Dot.
Beam Suntory, which owns Jim Beam and Maker's Mark, followed the Stillhouse in 2015 with the Jim Beam Urban Stillhouse in downtown Louisville.