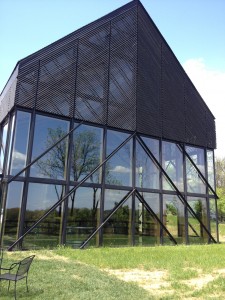 1417 Versailles Road, Lawrenceburg, KY  40342
wildturkey.com, 502-839-2182
PRODUCTS: Wild Turkey 101, Wild Turkey 101 Rye, Wild Turkey 81, Wild Turkey Rare Breed, Kentucky Spirit, Russell's Reserve, Russell's Reserve Rye, Wild Turkey American Honey
The Russells—father Jimmy and son Eddie—are the highlight of a visit to this distillery perched on a Kentucky River hillside in picturesque Anderson County. If they're not on the property, you'll meet them in a heartwarming video that tells their lifelong love affair with making top-notch bourbon.
A recently opened visitor center—a black structure of wood and glass—evokes the tobacco barns that once stored Kentucky's other great vice. Just outside, you'll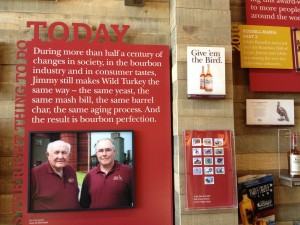 have a sweeping view of the Kentucky River and Young's High Bridge, which once carried trains across the 300-foot-deep gorge but now serves as a launching platform for bungee jumpers. I'll stick to the bourbon.