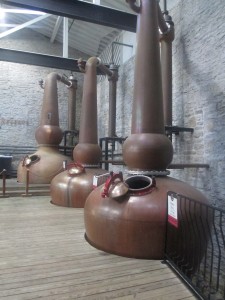 7855 McCracken Pike, Versailles, KY 40383. (Note: GPS will lead you to Indiana using this address; check the website below for driving directions. If you do get lost, remember that in Kentucky, we pronounce Versailles as "Ver-SALES.")
woodfordreserve.com/distillery/tours, 859-879-1812
PRODUCTS: Woodford Reserve Distiller's Select, Woodford Reserve Double Oaked, Woodford Reserve Rye
Set amid the rolling hills and horse farms of Central Kentucky, Woodford Reserve (a product of Brown-Forman) is one of Kentucky's most picturesque bourbon distilleries. Limestone rick houses dot the hillside, century-old cypress fermenters bubble with mash, and three classic copper pot stills produce some of the smoothest bourbon around.
Take time for the culinary tasting event, where samples of chocolate, orange, cheese, nuts and sorghum will coax out different flavor notes from the complex, well-balanced spirit. If your schedule allows, plan your visit for a weekday to avoid the huge crowds that tend to gather here on weekends.
Woodford Reserve also hosts various special events including a holiday meal series and the Bourbon Academy, a daylong immersive experience led by Master Distiller Chris Morris with an appearance (and lunch!) by Chef-in-Residence Ouita Michel. Check the website for dates and details.