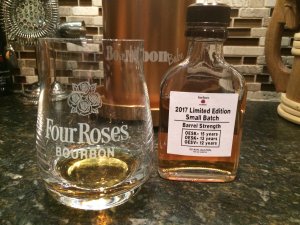 107.3 proof (barrel strength)
Blend of 15-year-old OESK, 13-year-old OESK and 12-year-old OESV
$130/750ml suggested retail price
The story:  Every year, Four Roses celebrates Bourbon Heritage Month with the release of a Limited Edition Small Batch. The 2017 edition features two of the distillery's 10 unique bourbon recipes (you may have read elsewhere that it features three recipes, but while it is a blend of three batches, two of those batches are OESK). It is also the first Limited Edition Small Batch in the brand's history to feature only its low rye mashbill (designated by the "E"). Four Roses also has a high rye mashbill. Those two mashbills, combined with the distillery's five distinct proprietary yeast strains, give it the 10 recipes, the most in the business, and any number can be combined in the Small Batch. "The Small Batch is where we shine," Ryan Ashley, Four Roses' COO and director of Distillery Operations, told me in an interview for this story earlier this year. "We get to create and have fun." Master Distiller Brent Elliott said he knew after he tasted this, his third test blend, that it was a winner. Approximately 13,800 bottles were filled and hand-numbered. The Limited Edition Small Batch will first be available in limited quantities at the Four Roses Distillery in Lawrenceburg, Ky., and its Warehouse and Bottling Facility in Cox's Creek, Ky., on Saturday, Sept. 16, beginning at 9 a.m., and will then be rolled out to select retailers in the coming weeks. My friends at Four Roses kindly sent me a small sample for this review.
The aroma: Creamy, sweet, butterscotch, hints of honey, vanilla, newly sawn lumber; a really lovely nose.
The taste: More butterscotch, brown sugar, apricot, almond, white pepper on end and some bright cinnamon spice. With a mid-palate punch, this travels straight down the center of the tongue, with very little involvement of the sides of the mouth. A tingle of alcohol warms all the way down to a super long-lasting finish.
The verdict: I can't imagine ever giving a bad review to anything from Four Roses, and I won't start here. However, this is not my favorite Limited Edition Small Batch. The taste doesn't quite deliver on the promise of that amazing nose; it's less creamy and much more spicy. How can that be, considering this bourbon is blended from three batches that used the low rye mashbill? It's the power of the yeast strain: K is the spiciest of the five. In addition, I have to admit I was judging this Limited Edition next to the outstanding 50th Anniversary Small Batch that Four Roses released in June to mark brand ambassador Al Young's milestone with the company, and few bourbons could top that. Four Roses: victim of its own success.