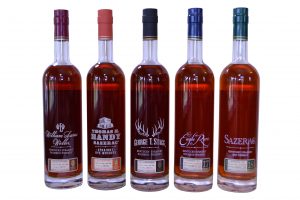 The annual fall release of limited-edition whiskeys continues with the 2017 edition of Buffalo Trace's Antique Collection, five whiskeys of various ages, recipes, and proofs. According to a news release, Master Distiller Harlen Wheatley is particularly taken with the "extra richness" of this year's William Larue Weller and said the Eagle Rare 17 seemed "more rounded and full of flavor." The 2017 Antique Collection whiskeys will be available in limited quantities in October with a suggested retail price of $90 per bottle.
Here are the distillery's notes about each:
George T. Stagg
The powerhouse favorite of the Antique Collection, George T. Stagg weighs in at 129.2 proof this year.  This year's release contains bourbon from 309 barrels filled in the spring of 2002 — quite a few more than last year's 142. Storage location of these barrels varied across warehouses C, K, M and Q.  This whiskey tastes of expresso, chocolate fudge and tobacco.
William Larue Weller
The Antique Collection's uncut, unfiltered, wheated recipe bourbon, the 2017 offering was distilled in the winter of 2005 and aged in Warehouses D, I, and P.  This bourbon registers at 128.2 proof.  The bold flavors include toffee, marshmallow and leather.
Thomas H. Handy Sazerac Rye
Thomas H. Handy is the uncut and unfiltered straight rye whiskey. This year's was distilled in the spring of 2011; aged on the third, fourth and fifth floors of Warehouses K, L, and Q; and weighs in at 127.2 proof.  The flavor is described as fig, allspice and cinnamon.
Eagle Rare 17 Year Old
The 2017 edition of this 90 proof bourbon has been aging on the first, second and third floors of Warehouses C, K and P.  It tastes of oak, tobacco, toffee and vanilla.
Sazerac Rye 18 Year Old
This 2017 straight rye whiskey release has notable flavors of leather, clove and all-spice.  The barrels for this whiskey were filled in the spring of 1998, and then put into a stainless steel tank in 2016 to stop further aging and evaporation.