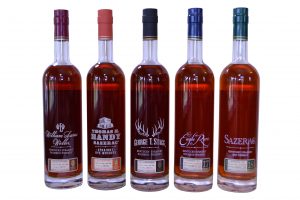 Each fall, Buffalo Trace releases its Antique Collection (often referred to as "the B-TAC" by the cool kids), five limited-edition whiskeys of varying recipes, proofs and ages. The good news for Stagg fans is that this year's batch was bottled from 309 barrels, slightly more than twice as many as last year's yield – not that it will be super-easy to find, as you know. The 2017 Antique Collection whiskeys are available in limited quantities in October with a suggested retail price of $90 per bottle. My friends at Buffalo Trace sent me small samples of each for review. Here's my take on the bourbons; I'll review the two rye whiskeys in a separate post.
Eagle Rare 17
90 proof; aged 17 years on the first, second and third floors of Warehouses C, K and P
Nose: Caramel, sweet, honeysuckle, herbal/grassy note
Taste: Very smooth, with a buttery, well-rounded mouth feel and notes of toffee and butterscotch. If it were a wine, it would be a Chardonnay, though with very little oakiness.
George T. Stagg
129.2 proof; barrels filled in the spring of 2002 and stored across warehouses C, K, M and Q
Nose: Complex blend of sweet (vanilla) and savory (bacon)
Taste: Bold on the front, peppery and savory, but quickly tails off to a short, somewhat dry, finish heavy on cocoa.
William Larue Weller
128.2 proof; distilled in the winter of 2005 and aged in Warehouses D, I, and P
Nose: Sweet, fruit notes, especially citrus; some char
Taste: The wheated bourbon of the collection, it has a bold profile but no burn and a thick mouth feel that coats the entire palate. The citrus note remains, along with leather and spice. Long finish that begins with baking spices and ends sweet, like a toasted marshmallow.
OVERALL VERDICT: Of these three, my money is on the William Larue Weller, the most complex and interesting – but I also really like the Eagle Rare 17, which has never impressed me more than the other four Antiques in at least five years of tasting.
UP NEXT: Sazerac Rye 18 and Thomas H. Handy Sazerac Rye