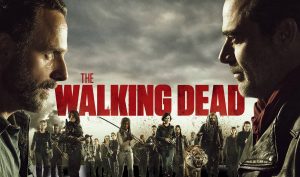 "The Walking Dead" is the one television show during which I am never tempted to eat or drink. But if you've been thinking, "Gosh, I sure wish there was a varietally correct wine I could be enjoying while I watch these zombies chow down," you're in luck: AMC has paired with Lot18 to release the Walking Dead Wine Collection.
The three blends (all reds, of course), named for Rick Grimes, Daryl Dixon and Negan, went on sale today, Entertainment Weekly reported in an exclusive. Rick Grimes is a 2016 California Petite Sirah that "would command the attention of anyone who tastes it." Daryl, a 2016 California Cabernet Sauvignon, "is a wine you can count on to always hit the mark." And Negan is a 2016 Bourbon Barrel Red Blend that will kill you. Kidding! But it is a wine that "packs a punch harder than Lucille's."
Each is $22 per bottle. The trio is $59. You can also buy a half case or case if you are preparing for the apocalypse.