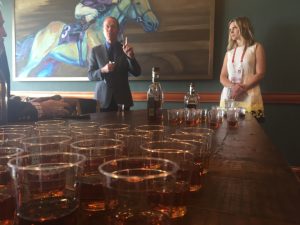 Woodford Reserve Master Distiller Chris Morris and Assistant Master Distiller Elizabeth McCall unveiled the latest member of the Woodford family, Kentucky Straight Malt Whiskey, to a small group of bourbon writers in the newly redecorated Brown-Forman Finish Line Suite at Churchill Downs yesterday.
First, the two led us in sampling Woodford Reserve bourbon, Woodford Reserve Double Oaked and Woodford Reserve Rye, noting that all three share the same grains — corn, rye and malted barley — and the same proof, 90.4. They differ either in the percentages of those grains used in the mash bill, or, in the case of the Double Oaked, in the finishing process – a unique process that "hint," hasn't gotten much press, Morris said. So here you go, Chris: After Woodford Reserve is distilled and aged the regular way, it is further aged in a brand-new barrel created just for this purpose, which is heavily toasted and then flash-charred (5 seconds!). That toasting activates all those wonderful vanilla and butterscotch flavors in the wood. And indeed, our samples of Double Oaked yesterday were very rich and sweet, almost like molasses.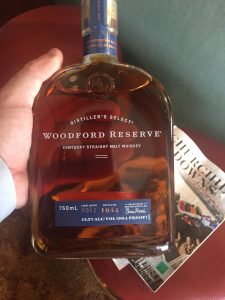 Then it was on to the big reveal, the Kentucky Straight Malt Whiskey. Again, the same grains were used in the mash bill, in this case 51 percent malted barley, 47 percent corn, and 2 percent rye. The proof is also 90.4. But as you'd imagine, the resulting whiskey is quite different — much lighter and more delicate, but with a nice, round mouth feel. The nose has notes of pecan, tea and cherry; the cherry notes carry over to the taste, along with some cocoa and cereal grains and a pronounced nuttiness on the finish.
This is not to be confused with a single malt Scotch, Morris cautioned. It harkens back to the malt whiskey that was commonly made before Prohibition but mostly fell out of production afterward. McCall said she envisions the target consumer for Woodford Reserve Kentucky Straight Malt Whiskey being someone who is adventurous and willing to try something different, and who is reassured by the Woodford name that the whiskey will be of high quality. I quite enjoyed my sample neat, but I also look forward to purchasing a bottle and experimenting with it in cocktails.
Woodford Reserve Kentucky Straight Malt Whiskey will hit the market in June.
Campbell Brown, president of Old Forester, also spoke briefly, saying the Old Forester Distillery at 119 W. Main St. on Louisville's Whiskey Row will open on June 14 as scheduled.