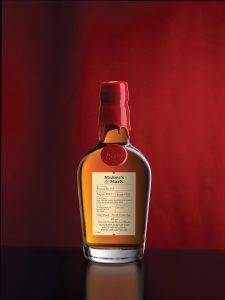 It took Maker's Mark 50 years to start experimenting with its bourbon, but it is quickly making up for lost time. The latest result, the suitably scientific-sounding Maker's Mark Seared Bu 1-3, will go on the shelf in Loretto, Ky., on May 1. It won't last long, though: Just over 1,400 bottles of this test batch, which won't go into permanent production, were filled.
Maker's Mark Seared Bu 1-3 is an outcome of the distillery's ongoing Private Select program, which explores how different types of wood and wood "cooking" techniques affect the flavor of bourbon. That program grew from the process used in 2010 to develop Maker's 46, just the second bourbon ever produced by the distillery. Maker's 46 is cask-strength Maker's Mark that spends an additional nine or so weeks in a barrel in which 10 seared French oak staves have been suspended. The staves amplify the flavors of the bourbon, creating what Bill Samuels Jr. has called "Maker's Mark on steroids."
Maker's continues to experiment with additional woods, attempting to pull distinct flavor notes from its bourbon. In 2015, the distillery began the Private Select program, its version of a private barrel program. Other distilleries pre-select several barrels and let customers choose a favorite to purchase and bottle. But because Maker's Mark still rotates its barrels and ages to taste, the variance from barrel to barrel is much less dramatic. Instead, customers select 10 staves from five types of finished oak that are used to finish their own barrel of Maker's Mark. (You can read more about that process in this excerpt from my book, "Barrel Strength Bourbon: The Explosive Growth of America's Whiskey.")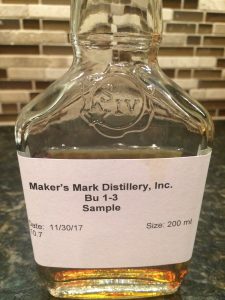 Like the other stave types, the Seared Bu 1-3 was developed to accentuate specific tasting notes, in this case, toffee or butterscotch. These staves were virgin French oak, seared and prepared sous-vide — essentially "cooked" in temperature-controlled water, sans the vacuum sealed bag that marks this French food preparation. (It will not surprise me when Maker's Mark starts referring to char as flambé.)
The distillery kindly provided me with a sample of the bourbon aged in a barrel made just from these staves, and it is delicious: rich and creamy, with heavy butterscotch notes and a silky finish.
It did not, however, "play well" with the other staves in the Private Select program, so it won't be a permanent addition. Once the 1,400 bottles are gone, that's it. This is the first time that Maker's Mark has made a test batch available to the public, and if you happen to be in Loretto next week, it's definitely worth purchasing. The price will be $39.99 for a 375ml bottle.