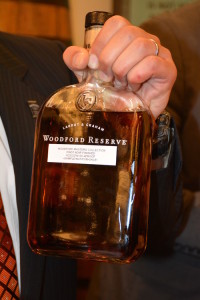 Mature Woodford Reserve (about 7 years old) finished for 10 months in Sonoma-Cutrer French oak Pinot Noir casks; 90 proof
About $100/750ml
The story: This is the ninth release of the Master's Collection, a series of limited editions created by master distiller Chris Morris. It is the second to be finished in wine barrels – the 2007 edition had a Chardonnay finish.
The aroma: Very soft and sweet, with a definite cherrywood note
The taste: Lots of fruit on the front, and a velvety, wine-like mouth feel. The cherry note continues to build, now accompanied by a dark chocolate – but it's subtle and balanced by the spice and wood in the bourbon, not as sweet as a chocolate-covered cherry. There is a little warming spice on the nice, smooth finish.
The verdict: I'll be on the lookout for this one at my retailer.