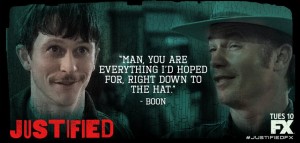 Boon is one creepy dude. Avery Markham's last hired gun standing on "Justified," he has a haircut reminiscent of Javier Bardem's in "No Country for Old Men," mannerisms that recall Crispin Glover, and a definite desire to be the one who finally outdraws Raylan Givens. But the actor who plays him, Jonathan Tucker, couldn't be more of a gentleman. After responding to last week's recap, in which I called Boon "insufferable" (his tweet: "insufferable? that there sums squarely the look Jennie here'll put on your face when she parts my side holster." -boon), he kindly agreed to an interview ahead of tonight's penultimate episode.
Q. You've come into a popular show in its final season, and in a short time have created one of its most memorable bad guys. Where did you take your inspiration for Boon and his distinctive mannerisms?
A. You have to collect characters from the ride and find characters from within. Boon's a mixture of both. Fox. Mimic. Old-timer. Loose cannon. Lonely little boy with a father complex.
Q. What are Boon's real feelings for Loretta? I'm hoping she plugs him, but he seems to think they'd make a cute couple.
A. Real feelings? Loretta is his: plain and simple.
Q. Boon's boss, Avery Markham, declared early on that he never developed a taste for bourbon (which immediately made him suspect in my book). As a Wild West wannabe, Boon has to shoot whiskey, right? What's his brand of choice? And how about you, Jonathan: Are you a bourbon drinker?
A. Boon and Tucker: Maker's Mark. Cask strength. Kentucky straight bourbon whiskey. 113.2 proof. 56.6% alc/vol. Comes exclusively in a 375ML bottle straight from the proud town of Loretto. A drip of filtered water to open her up and let the engines roar, Carla Carlton.
Q. What would taking Raylan down mean to Boon? And what has being on "Justified" meant to you?
A. 1. Another ring on my finger. 2. A privilege.
Q. Finally, Raylan seems mostly amused by Boon. But I'm more than a little nervous. Can you reassure me in any way?
A. There are some lessons in Harlan you can only learn from grief and responsibility, ma'am. No insurance. Deal the hand.