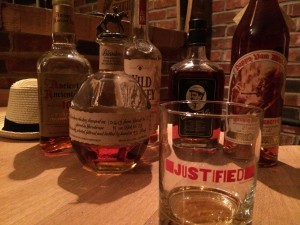 Well, y'all, the end is near: After seven bourbon-soaked seasons, the series finale of "Justified" airs tonight. I'll post my final "Justified" Whiskey Watch, The Last Call, tomorrow, but in the meantime, here are my Top 5 Whiskey Cameos from this final season:
5. Raylan brings Art a bottle of get-well Blanton's.
4. Ava has Wild Turkey 101 for breakfast.
3. Raylan uses Ancient Age to burn the contents of Arlo's foot locker (and, symbolically, Raylan's hated past).
2. Boyd drinks Elmer T. Lee just about all of the time, except for when…
1. Boyd breaks open the bottle of Pappy 20-Year-Old stashed in his folks' cabin just before Ava reveals she's a snitch.
BONUS: BEST BOURBON QUOTE OF THE SEASON/SERIES:
Raylan: "Bourbon is easy to understand: It tastes like a warm summer's day."
And yes, that is Elmer T. in the glass in the photo. I'll be pouring another shot (or two) tonight.