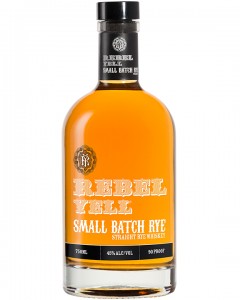 90 proof, 2 years old
$27.99-$29.99/750ml suggested retail price
The story: Rebel Yell as a brand name dates to 1849, when it was distilled at the famed Stitzel-Weller operation (and named by Louisville Mayor Charlie Farnsley). After several ownership changes, the brand was purchased by the David Sherman Corp. of St. Louis, which is now doing business as Luxco. The brand's packaging and label were recently updated, and late last month Luxco released two new variations: Rebel Yell Small Batch Rye and Rebel Yell American Whiskey. "Rebel Yell is bridging the gap between its proud heritage and modern tastes with these two new brand innovations," brand manager Fletcher Buchman said in a release. The Small Batch Rye has a high-rye mash bill, which the company says offers "a smooth and spicy flavor with enough backbone to stand up to classic cocktails." Luxco kindly sent me a sample of each of these new offerings. Read on to see whether I agree with its assessment of the Small Batch Rye, and find my notes on the American Whiskey (a 50-50 blend of Kentucky straight bourbon and straight rye) here.
The aroma: Not the most appealing – a bit of mint, but under that some petroleum and a medicinal whiff like Band-Aids
The taste: Much better than the nose! The mint is softened by a little bit of butter, and while this rye does bring the spice, it's not peppery; more like a red-hot cinnamon candy. Numbing, almost.
The verdict: While the Rebel Yell American Whiskey was bland and unremarkable, this is more authentically "rye." I wouldn't select it to drink neat, but I agree that it would hold up well in cocktails, particularly a Manhattan, and at this price point it could be a good choice.