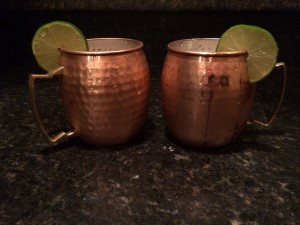 The Kentucky Mule is a variation on the Moscow Mule, a cocktail that mixes vodka, lime juice and ginger beer over ice, usually in a copper mug. The Kentucky version obviously substitutes bourbon for the vodka. Bourbon has always played well with ginger ale, but the ginger beer takes the spice quotient up a notch — just enough for a bracing, refreshing tingle. I used Larceny, a well-balanced bourbon, in this batch; if you want an even bigger kick, use a higher-proof brand. I also highly recommend purchasing the iconic copper mugs. In addition to keeping your cocktail good and cold, they look really sophisticated, don't they?
Kentucky Mule
1.5-2 ounces bourbon
.5 ounce fresh-squeezed lime juice
4 ounces (cold) ginger beer (I used Cock'n Bull)
Lime slices (or mint)
Fill your glass or mug with ice. Pour in bourbon and lime juice. Top with ginger beer. Garnish with lime slice or sprig of mint. Or both!