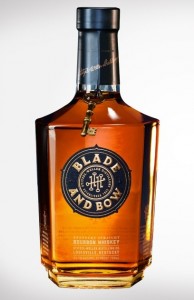 91 proof; no age statement
$49.99/750ml suggested retail price
The story: This new brand from Diageo pays homage to Stitzel-Weller, the historic distillery that now houses Diageo's Bulleit Frontier Whiskey Experience. The name refers to the blade shaft and the ornamental bow handle of a skeleton key, a reference to the Five Keys symbol that is found throughout the distillery (and itself refers to the five steps of crafting bourbon – grains, yeast, fermentation, distillation and aging).
Blade and Bow begins with whiskey that was aging at the famed Stitzel-Weller when it closed in 1992. That juice is mingled with whiskies that have been aged there since and matured using the Solera method, in which a series of containers is used and none is ever completely drained, so that some of the earlier product always remains.
Diageo has also released a limited-edition Blade and Bow 22-Year-Old. Find my tasting notes for that here.
The aroma: Sweet, with lots of bright fruit; some oak; a bit of spice.
The taste: Light and somewhat thin. The fruit is joined by some sweet caramel; there is a little bit of cinnamon toward the back of the palate, but not much heat. The finish is short and rather dry.
The verdict: While I can't say it's bad, I can't say this bourbon is extremely good, either. It lacks complexity, and its mouthfeel is disappointing. There's just not much "there" there. The most striking thing about it is the packaging. I think it's overpriced at $49.99.