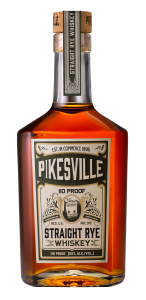 110 proof; 6 years old (minimum)
Suggested retail: $49.99/750ml
The story: Pikesville Rye is a super-premium spirit produced by Heaven Hill Brands that is scheduled for national distribution in fall 2015. This new expression of a Maryland mark that dates to 1895 is Heaven Hill's first major launch since Denny Potter was named co-master distiller. Heaven Hill bought "Pikesville Rye" in the 1980s as rye whiskey production in Maryland came to an end and has produced that traditional 80-proof, 3-year-old product in Kentucky since then for distribution in Maryland, which will continue. The new premium release is intended to capitalize on increased interest in rye whiskey nationwide. It is distilled from a mash bill of at least 51 percent rye, with corn and malted barley as the small grains.
"Pikesville Rye is the text book example of the traditional three-grain American Straight Rye Whiskey that laid the foundation for rye's current renaissance," Potter said in a news release. "To set it apart from other ryes, I selected barrels at a minimum of 6 years old from high storage and bottled it at a proof that allows the most character from the barrel to come through without overpowering the spicy grain notes."
Pikesville Straight Rye Whiskey is distilled at the company's Bernheim Distillery in Louisville and aged in its rickhouses in Bardstown, Ky. It is packaged in a bottle with a classic shape and topped with a rustic cork. Heaven Hill kindly provided The Bourbon Babe with a bottle for review.
The nose: Smoke, spruce; definitely spicy but not overpoweringly so – more white pepper than black, with an underlying sweetness and a hint of cocoa.
The taste: Very smooth on entry, heating up on the back of the palate but smoothing out again on the way down to a dry, fairly short finish that leaves behind a whisper of cinnamon. In between, sweet buttered caramel and vanilla and just a hint of cloves.
The verdict: I typically enjoy rye whiskey. My drinking companion generally does not. But both of us enjoyed Pikesville. I suspect that is because of the secondary grains. While Heaven Hill did not provide the exact mash bill, I have to believe that the percentage of corn is fairly high. That would explain why Pikesville has a brighter, sweeter taste profile than many rye whiskeys, with much less of the dry, some would say almost acrid, baking spice quality. We felt no need to add ice or water to tamp down the spice, as we've done with other ryes. Heaven Hill says Pikesville Rye mixes well in classic cocktails. I can see it giving a Manhattan a softer edge, but I'm not sure that, given its sweetness, it would stand out as much as other rye whiskeys used to build cocktails. I say sip it neat, and if you have a friend who says she doesn't like rye, encourage her to sip along with you.