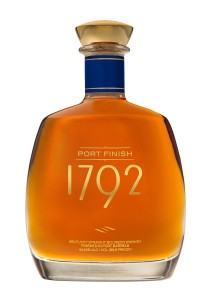 88.9 proof; aged 6 years in new American white oak barrels and an additional 2 in used port wine barrels
$39.99/750ml suggested retail price
The story: Barton 1792 Distillery, owned by Sazerac, continues its new line of premium 1792 brands with this port-finished bourbon. 1792 Sweet Wheat, the inaugural premium expression, was released earlier this year, and like that one, the Port Finish will be available in extremely limited quantities. If the Port Finish is successful, however, Barton Brands is considering making more, according to a news release. Additional limited releases of new 1792 expressions are also planned over the next few years. Barton Brands kindly sent me a small sample of 1792 Port Finish for this review.
The aroma: Sweet, with dark cherry and chocolate notes; the port influence is clear.
The taste: The port holds far less sway here – almost none, in fact. It was all bourbon, both in taste and in mouth feel – unlike Angel's Envy, another port-finished bourbon, which coats the tongue with velvet, the 1792 went straight down the middle of my palate. I picked up quite a bit of tannin, and found the finish rather flat and metallic.
The verdict: I'm a big fan of 1792, and I enjoyed the 1792 Sweet Wheat, but for my tastes, this experiment subtracts from, rather than adds to, the brand.