The annual Kentucky Bourbon Festival is well underway here in Bardstown, Kentucky. A few highlights from the week so far:
Hall of Fame: Four industry legends were inducted into the Kentucky Bourbon Hall of Fame on Wednesday, and another achieved lifetime status. "This year's distinguished class has a shared theme – they served behind-the-scenes to promote, protect and elevate our timeless craft," said Eric Gregory, president of the Kentucky Distillers' Association. "But make no mistake – they are the backbone of our growth and success."
The 2016 inductees, in alphabetical order:
Barry Becton, senior director of State Government Affairs, Diageo North America
Joy Perrine, author and veteran award-winning bartender at Equus Restaurant and Jack's Lounge in Louisville
John Rhea, former Chief Operating Officer, Four Roses Distillery
Jimmy Russell, Master Distiller, Wild Turkey (Lifetime Achievement)
William M. Street, former president, Brown-Forman Corp.
Jimmy, now in his 62nd year making whiskey at Wild Turkey, was honored with the Parker Beam Lifetime Achievement Award. (I was unable to attend, but I'm told that Jim Beam's Fred Noe got a little "tore up" while introducing Jimmy, his "dad on the road.") Jimmy was elected a charter member of the Hall of Fame in 2001 and a Lifetime Honorary Member of the KDA Board in 2014. The award was named last year for Parker Beam, who joined Heaven Hill in 1960 as a sixth-generation distiller in his family. He was named Master Distiller Emeritus in 2013 shortly after being diagnosed with Amyotrophic Lateral Sclerosis (ALS), or Lou Gehrig's disease. His public advocacy for ALS research, care and awareness has generated millions for his "Promise of Hope" fund.
All-Star Sampler: I think this is my favorite Bourbon Festival event. Master distillers from all the major brands, plus several craft distillers, gathered at the Guthrie Opportunity Center on Wednesday evening, where they greeted 500+ fans, served up bourbon and cocktails and signed all manner of memorabilia. It's a down-home, laid-back evening. Hall of Fame lifer Jimmy Russell was there with his son, co-master distiller Eddie Russell, and his wife. Joretta. I asked Joretta if she had received a lifetime achievement award for putting up with Jimmy for all these years. She hadn't, but she agreed that she should have.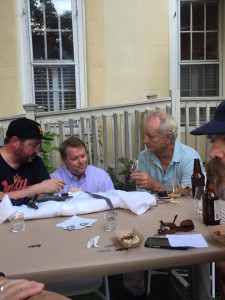 A Star Sighting: In the 2003 movie, "Lost in Translation," Bill Murray played a famous actor hired to make a commercial for a Japanese whiskey company. The tagline: Make it Suntory time." On Thursday night, though, it was Willett time for Murray, who showed up at the Harrison-Smith House in Bardstown for Whiskey Pig, a dinner featuring Willett bourbons and food by Sean Brock, chef at Husk & McCrady's in South Carolina and Newman Miller and Joshua Smouse of Harrison-Smith House. Murray is apparently friends with Brock, but it was starstruck time for everyone else, including the KDA's Eric Gregory, center in this photo that I shamelessly lifted from his Facebook page. He says they sampled some 17-year-old Wild Turkey, and he checked off an item on his bucket list. So he's got that going for him, which is nice.