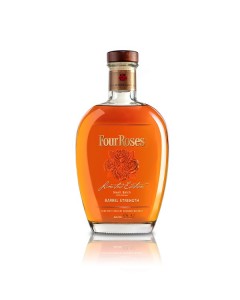 112 proof (barrel strength); blend of 12-year-old OESO, 12-year-old OBSV and 16-year-old OESK
$99/750ml suggested retail price
The story: This edition of the eagerly awaited annual release is the first one to bear the name of new Master Distiller Brent Elliott, following Jim Rutledge's retirement last year. It's also the first Limited Edition Small Batch in seven years to include the OESO recipe, which combines the distillery's lower-rye mash bill (E) with the fruity O yeast strain. Here are Four Roses' tasting notes: "The remarkably balanced 2016 Limited Edition Small Batch introduces bright notes of sweet cherry and crisp green apples, mingled with rich apricot and structured rye aromas. Tart citrus flavors greet the palate, then give way to hints of sweet molasses, peppery spices and decadent crème brulee. The finish is long and gentle, with delicate honey and light mint." The folks at Four Roses kindly sent me a small sample to review; let's see if my palate finds the same things.
The aroma: Delicious, complex nose. Bright indeed, combining Granny Smith apple tartness with an underlying sweetness of brown sugar and just a whiff of oak.
The taste: Sweet on the front, still with a prominent fruit note, but richer — more like cooked apples with cinnamon. The spice increases at mid-palate – I got white pepper on the roof of my mouth — and continues through the finish, but is never harsh or overly hot. Definite nutty wood note at the very end — the good wood, not tannic at all. Long finish leaves a fresh mint behind.
The verdict: Although this is the first LE Small Batch to bear Brent's name, he's been helping to select these Four Roses limited editions for years, and it shows. This is a very good bourbon, complex and balanced.