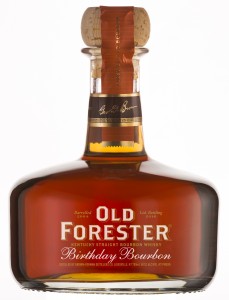 97 proof; 12 years old
$79.99/750ml
The story: Each September, Brown-Forman celebrates the birthday of founder George Garvin Brown with a limited edition release of Old Forester Birthday Bourbon. This year marks the 15th anniversary of the series. The 2016 edition, which was barreled on June 4, 2004 (making it, like all the BBs, 12 years old), was aged near a window facing west, which exposed the barrels to the sun and gave this expression "a deep, rich, oak-forward personality," according to notes from the distillery. Master Distiller Chris Morris and Old Forester's new master bourbon specialist, Jackie Zykan, jointly determined the proof, which is 97.
The aroma: Citrusy and sweet – almost like vanilla frosting – with slight spice.
The taste: Butterscotch on the front, with a little bit of that orange citrus. Very spicy from the mid-palate on, with a dominant anise note. Dry, peppery finish.
The verdict: This was not my favorite edition of the Birthday Bourbon. While Jackie's official tasting notes agreed with mine regarding the butterscotch beginning, we diverged from there. I picked up none of the creamy vanilla she found in the middle, and I found nothing subtle about that anise at the end. For me, this bourbon wasn't very complex. And since I don't like licorice, the overpowering anise note colored my entire experience.