There's another splash along downtown Louisville's Whiskey Row. Four Roses Bourbon has installed a vintage-inspired art mural at 118 East Main Street, paying tribute to its history in the two-block stretch of Main Street that once housed more than 20 spirits merchants.
Currently home to technology companies such as Indatus, Spoke and Voitress, the building was home to Four Roses founder Paul Jones Jr.'s company from 1884 to 1922. 
"This was where our founder put his stake in the ground in Louisville," says Al Young, who is Four Roses' Senior Brand Ambassador and wrote the definitive company history, "Four Roses – The Return of a Whiskey Legend."
If you look closely at the bottom right of the photo below, you'll see another project that represents a company reclaiming its Whiskey Row heritage. Brown-Forman is building a $45 million Old Forester Distillery at 117 and 119 W. Main St. that will allow the company to double production of its flagship brand. Brown-Forman warehoused barrels in the building at 117 W. Main in Whiskey Row's heyday.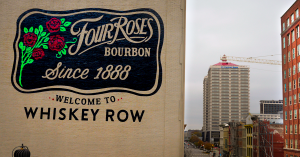 The Four Roses mural, which is 21 feet tall by 28 feet wide, was hand-painted by Louisville artist Kirby Stafford. Young said the design is based on a classic 1900s-era Four Roses bottle that had a metal front plate and embossed roses. 
Four Roses is also leasing space in the lobby of the building to display historic Four Roses memorabilia.
Read more about the past, present and future of Louisville's Whiskey Row in my new book, "Barrel Strength Bourbon: The Explosive Growth of America's Whiskey," out this spring from Clerisy Press. Pre-order here.