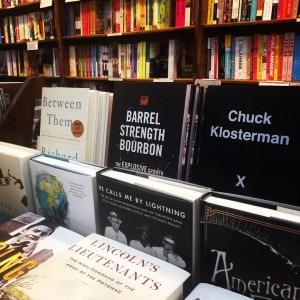 Father's Day is Sunday. If you're still looking for the perfect gift, might I suggest a copy of "Barrel Strength Bourbon: The Explosive Growth of America's Whiskey"? It's filled to the brim with facts about the history and creation of bourbon, along with statistics on the remarkable rise of production and tourism over the past five years.
Longtime Master Distiller Jim Rutledge calls it "one of the best and most accurate books on bourbon I've had the pleasure to read." Check Maggie Kimberl's excellent review on The Alcohol Professor here.
You can pick up a copy at your local bookstore (I took this photo at Carmichael's in Louisville, where thankfully everyone was otherwise occupied at the time) or, if you're an Amazon Prime member, you can order it today and the elves will deliver it tomorrow.
Pair it with Dad's favorite bourbon and you're all set!