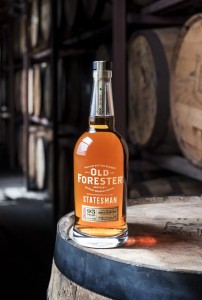 95 proof; no age statement
$54.99/750ml suggested retail price
The story: I've always said that bourbon has a lot of character. But Old Forester Statesman is the first one I'm aware of that actually is a character. The new Brown-Forman product will make its big-screen debut on Sept. 22 in "Kingsman: The Golden Circle," the sequel to "Kingsman: The Secret Service." In the new film, after the British HQ of the super spy ring the Kingsman is destroyed, they discover an allied organization called the Statesman that is headquartered in Louisville, Ky. Members of the Statesman pose as master distillers to hide their true identities; naturally, they dress as cowboys, as one does in Louisville.
The bourbon will be released in August, but I had the chance to sample it at a recent event where Brown-Forman Master Distiller Chris Morris led a tasting of all the current Old Forester expressions. When selecting the barrels for Statesman, he said, he picked from the hottest floor across multiple warehouses– which was not necessarily the top floor, since the Old Forester warehouses are heat-cycled. This was the first time in Old Forester history that a warehouse-specific location was used in a bottling, and it was done to guarantee "the biggest, boldest expression," he said. Here are my tasting notes.
The aroma: Very sweet, butterscotch, slight whiff of vanilla, no burn.
The taste: Corn, more butterscotch, caramel, bright citrus fruit; leaves a tingle on the end but no pronounced fire here, either.
The verdict: While Statesman has the characteristics of  all Old Forester expressions, it seemed younger to me, with more noticeable corn and less complexity. I wouldn't call it big or bold; I'd reserve those adjectives for the 100 proof or for the 1920 limited edition. I do agree with Chris Morris that for a 95 proof bourbon it is "very easy to drink; scary easy to drink." Perhaps it will go well with popcorn.