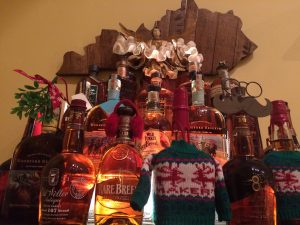 By Chad and Carla Carlton (with apologies to Clement Clarke Moore)
'Twas the FLIGHT BEFORE CHRISTMAS, when all through the house
Not a creature was stirring, well, except for my spouse;
The Bourbons were stocked near the wet bar with care,
In hopes that our good friends soon would be there.
The children were nestled all snug in their beds,
While visions of sugared drinks danced in their heads;
And mamma with a glass, and I popping a cap,
Had just settled down for a warming nightcap,
When out on the lawn there arose such a clatter,
I sprang from the bar to see what was the matter.
Away to the window I flew like a flash,
Tore open the shutters and threw up the sash.
The MOONSHINE on the breast of a new-fallen snow
Gave the lustre of midday to objects below,
When, what to my bloodshot eyes should be featured,
But a miniature bar with 750 milliliters,
With a little old 'tender, so lively and quick,
I knew in a moment it must be St. Nick.
More RARER than EAGLES his courses they came,
And he whistled, and shouted, and called them by name:
"Now, BOOKER'S! now, BAKER'S! now, WOODFORD and WILLET!
On, PAPPY! on EVAN! on, MAKER'S and BULLEIT!
To the top of the porch! to the top of the wall!
Now splash away! splash away! splash away all!"
As dry leaves that before the WILD TURKEY fly,
When they meet with an obstacle, mount to the sky,
So up to the front porch the whiskey man flew,
With a sleigh full of bottles, even MICHTER'S too.
And then, in a twinkling, I heard at the door
The clinking and sloshing of each little pour.
As I drew in my head, and was turning around,
Through the front door St. Nicholas came with a bound.
He was dressed all in fur, from his head to his foot,
And his clothes were all tarnished with char and with soot;
A selection of Bourbon he had stored his pack,
And he looked like JIMMY RUSSELL — at least from the back.
His eyes — how they twinkled! His dimples — how merry!
His cheeks like FOUR ROSES, his nose a LUXARDO cherry!
His droll little mouth was drawn up like a bow,
And the beard of his chin was as white as the snow.
The cork of a bottle he held tight in his teeth,
And the ANGEL'S SHARE circled his head like a wreath;
He had a broad face and a little round belly,
That shook, when he laughed, like a bowlful of jelly.
He was chubby and plump, a right jolly old elf,
And I laughed when I saw him, in spite of myself;
A wink of his eye and a twist of his head,
Soon gave me to know I had nothing to dread.
He spoke not a word, but went straight to his work,
And filled all the bar shelves; then turned with a jerk,
And pouring two fingers into my GLENCAIRN,
He gave me a look that said, "Bourbon's for sharin'."
He sprang to his sleigh, to his team gave a whistle,
And away they all flew like a bourbon-fueled missile.
But I heard him exclaim, ere he drove out of sight,
HAPPY CHRISTMAS TO ALL, AND TO ALL A GOOD FLIGHT!