Bourbon tourists continued to slake their thirst for bourbon and bourbon knowledge in Kentucky last year, as the 23 distilleries on the Kentucky Bourbon Trail Tours notched more than 1 million visits for the second year in a row.
The 1,194,233 visits included 940,780 stops on the Kentucky Bourbon Trail, which showcases 10 of the state's distilleries, and 253,453 stops at the 13 distilleries on the Kentucky Bourbon Trail Craft Tour. That means that attendance has grown by 314 percent in the past 10 years, says Eric Gregory, president of the Kentucky Distillers' Association, which created the Kentucky Bourbon Trail in 1999 and added the Craft Tour in 2012.
Buffalo Trace Distillery in Frankfort, which is not a member of the KDA and therefore is not a stop on the Kentucky Bourbon Trail, set its own attendance record in 2017, ending the year with 201,491 guests — an increase of 18 percent over 2016 and 287 percent since 2010.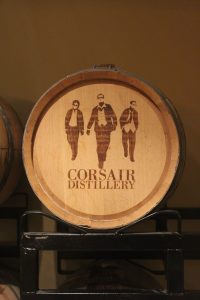 All of these visitors are great news for the communities in which the distilleries are located, particularly some of the small towns that are home to craft distillers. Only about 17 percent of Passport holders are from Kentucky, and the average length of stay for visitors is three days. That's three days of lodging, eating, souvenir-shopping, etc.
At least three distilleries will join the Kentucky Bourbon Trail this year — Castle and Key in Frankfort, Lux Row in Bardstown, and James E. Pepper in Lexington. Adam Johnson, the KDA's senior director of Kentucky Bourbon Trail Experiences, said 2018 will also bring a new Bourbon Trail website and a new affinity group for Passport holders.
In addition, the KDA is partnering with the Frazier History Museum in downtown Louisville to develop the Kentucky Bourbon Trail Welcome Center, which will become the official starting point of Kentucky Bourbon Trail excursions when it opens in August.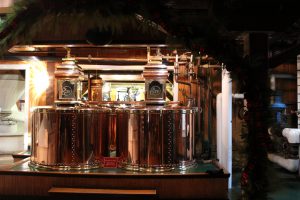 Kentucky Bourbon Trail members are Angel's Envy, Louisville; Bulleit's Stitzel-Weller Distillery, Louisville; Four Roses, Lawrenceburg and Cox's Creek; Heaven Hill in Bardstown and its Evan Williams Bourbon Experience, Louisville; Jim Beam in Clermont and Louisville; Maker's Mark, Loretto; Town Branch, Lexington; Wild Turkey, Lawrenceburg; and Woodford Reserve, Versailles.
Kentucky Bourbon Trail Craft Tour members are Barrel House and Bluegrass Distillers in Lexington; Boone County Distilling, Richwood; Corsair, Bowling Green; Hartfield & Co., Paris; Kentucky Artisan, Crestwood; Kentucky Peerless, Louisville; Limestone Branch, Lebanon; MB Roland, Pembroke; New Riff, Newport; Old Pogue, Maysville; Wilderness Trail, Danville; and Willett, Bardstown.